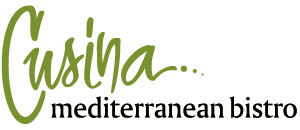 Cusina Mediterranean Bistro | Dine in | Takeout | Catering | Guelph Ontario
ABOUT CUSINA
Cusina is an upscale Mediterranean restaurant in Guelph, Ontario, with value oriented pricing and delicious made in-house dishes.
Whether you are with your family, travelling solo, or with a group, give us the opportunity to serve you one of our unforgettable meals. We guarantee that you will receive mouthwatering, freshly made dishes any time of day. We serve breakfast, lunch, and dinner, with takeout and have a fully stocked bar and an extensive wine list.
We also offer catering services for your special events in Guelph and the surrounding areas. Give us a call and we'll create a unique menu for your special day. Our extensive menu includes breakfast classics, warm and flavourful soups, crisp salads, great burgers and sandwiches, seafood, pastas, chicken, steak, and more!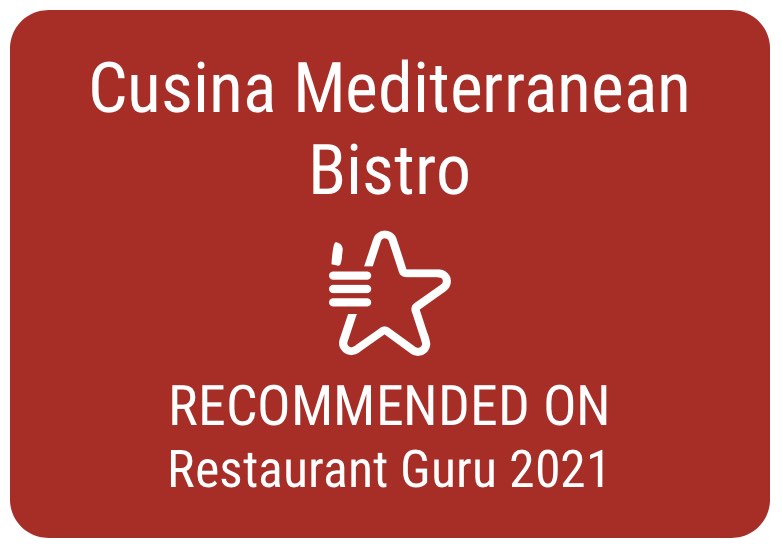 RESERVATIONS . 519-265-9441
Reservations not required - but recommended.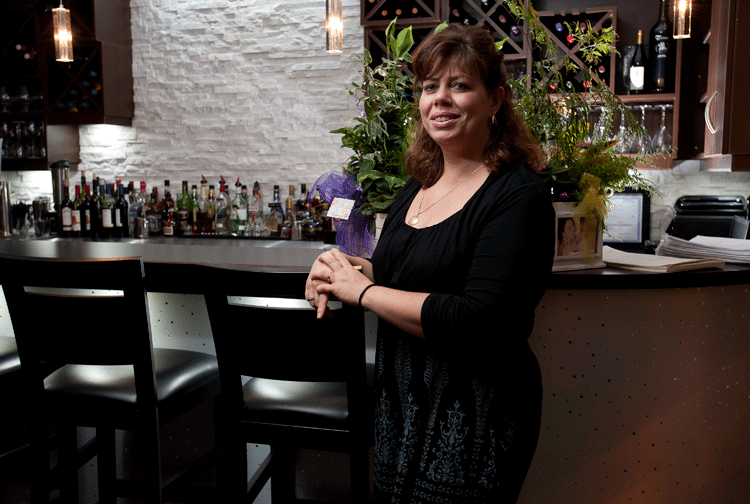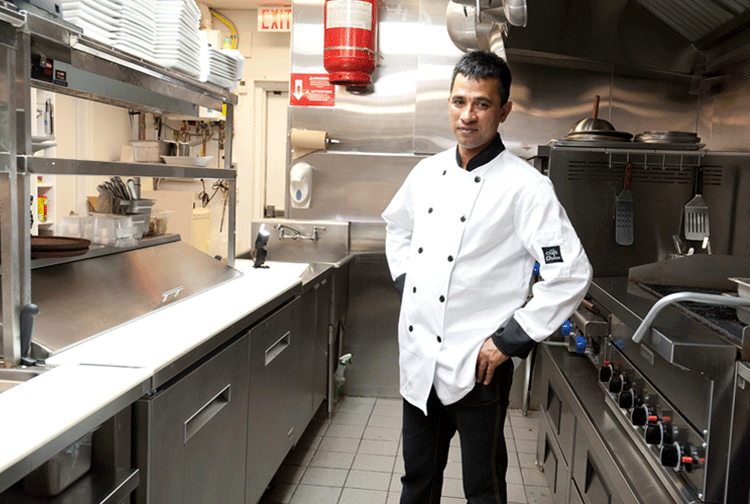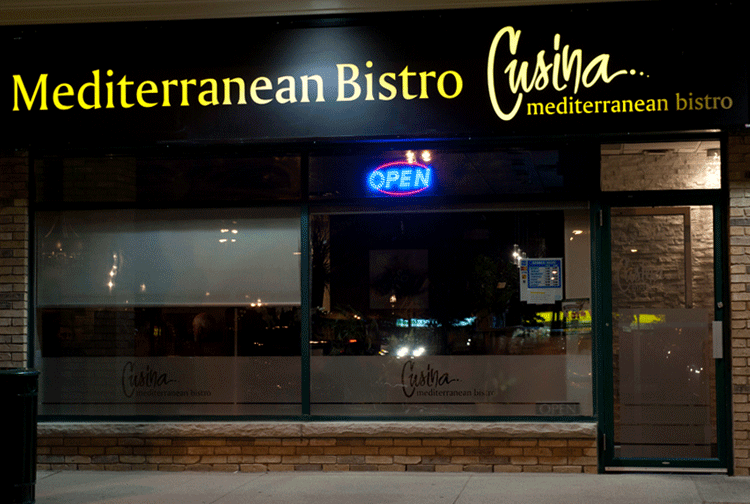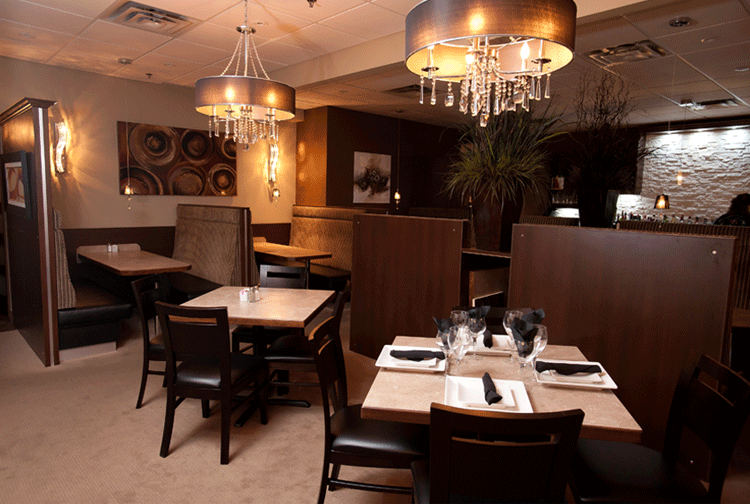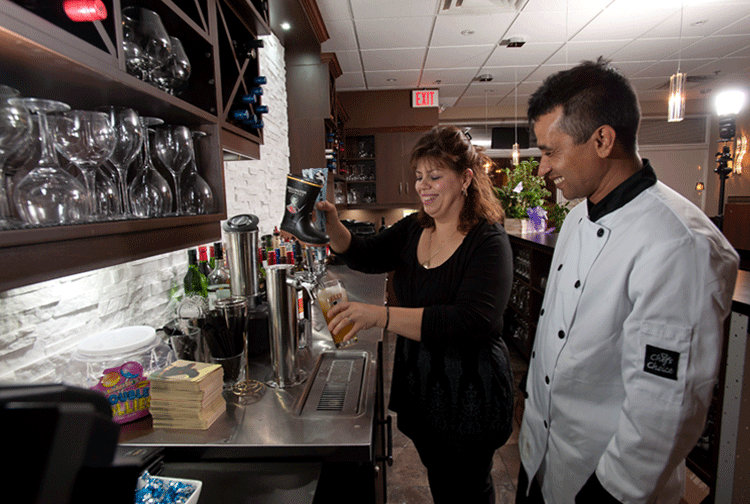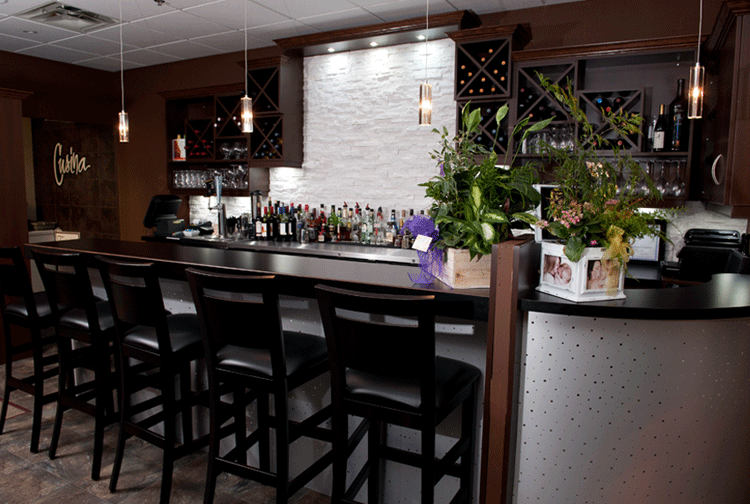 OPEN FOR DINE-IN,
TAKEOUT AND DELIVERY
Our Summer Holiday
Closed from Aug 6. Reopening on Aug 16
COME CHECK OUT OUR PATIO LAUNCH ON THE AUGUST 17TH
We Will Be Opening From
TUES & WED 3:00 PM - 8 PM
THURS - SAT 12:00 PM - 8 PM
CALL 519-265-9441
Take Out or Delivery thru Skip and Uber
For larger lunch orders please email us and we will accommodate

Email: contact@cusinabistro.com
Email Us
OUR MENU
At Cusina we only use high quality, fresh ingredients to make our fantastic dishes.
We offer hot and flavourful meals for breakfast, lunch, and dinner! Try our signature dishes today!
Looking for that extra something? We can create special menus for groups interested in booking a private function.
Pre-orders are welcome. Phones are being picked up from 1pm and on.
During these trying times, we will be only using the menu below
*Also available for order: Containers of Caesar or Greek dressing, and Tzatziki*
Click on menu to enlarge
Click on menu to enlarge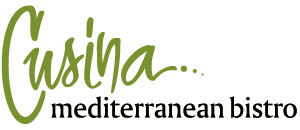 CONTACT CUSINA
Cusina Mediterranean Bistro Hours:
Tuesday-Saturday: 3:00PM - 8:00PM
General Manager/Owner: Maria Kiriakopoulos-Kalantzis
Chef/Owner: Sumon Bhuiyan
5-160 Kortright Road, West,
Guelph, ON N1G 4W2
519.265.9441
CUSINA REVIEWS
Date Night
This restaurant is so cozy and relaxing. Really enjoyed our meal. Fantastic service and attention to detail. Would definitly recommend Cusina for both a great meal and warm atmosphere......Erin Monaghan
Hidden Gem!
We absolutely loved this little hidden gem! Great food and service, and very quick!!! We'll be back for sure......Sarah Rowan
Amazing Service!
Maria and staff, thank you so much for your amazing service on Saturday for the 50th Anniversary Lunch. We appreciate you accommodating everyone!!.....Kim McDougall
Email: contact@cusinabistro.com
Email Us